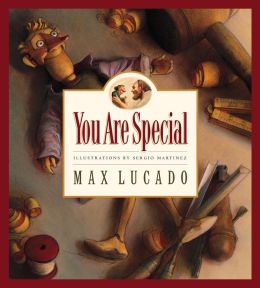 You Are Special
How many times have you tried to tell your children that they are special –but it just doesn't stick?
Mark came home from school devastated. 'Someone' had said 'something' and he was inconsolable. No matter what I said, the power of peer review overwhelmed him. I felt helpless.
That is until my friend Nina called me a 'Wemmick.'
She said this after I said I don't want to do this because 'No one else is doing it!'
"Wemmick?"
"Here. Read this." She said and handed me the book, 'You Are Special,' by Max Lucado.
'You Are Special' is a tale about little wooden people armed with two types of stickers; gold stars to stick on desirable wooden Wemmicks and ugly, gray circles to stick on Wemmicks they decide are just not worth that much.
Judgmentalism at its best.
The main character, Punchinello, is a sad Wemmick covered in gray dots. He is neither the most-talented nor the smartest. In fact, whenever he tries to do something to stand out, he falls flat on his face.
Then Punchinello meets another Wemmick who has upon herself neither stars nor dots. Punchinello discovers that this
Wemmick has gone back to Eli the Woodcarver, her 'creator,' and has learned an important secret. She is special just because he carved her. She is wonderful just the way she is. Once she has this secret knowledge, the things others say about her no longer matters. The stickers just fall right off!
As Punchinello learns this lesson, he begins to believe in himself and – the awful gray dots no longer stick!
I read this book to my boys and was heartened with their response. Marc said, so long as you believe in yourself, negative things other kids say won't 'stick.' We discussed ways to strengthen self-confidence and my kids agreed that knowing that your 'Creator' or someone else really believes in you and loves you just the way you are can help you remain strong in the face of judgmental comments.

Now when I see my kids weighed down by judgments, I remind them of Punchinello. (And sometimes they remind me as well!)
Have a wonderful, uplifting day.